Smart Home: The future of living is intelligent networking
2018-07-27 08:06 am
Switching on the heating at home via smart phone App while being in the office, turning on the presence control before leaving for vacation or remote checking who is ringing the doorbell – these are only 3 features of a "Smart Home". The following article will give you an idea about the technology and the opportunities as well as of the advantages and disadvantages of home automation.
Table of contents and quicklinks
1. Definition of the term "Smart Home"
When exactly the term "Smart Home" came up for the first time cannot be definitely proven. But it is certain that the first devices and projects are developed at the turn of the millennium. Since then the technologies not only have improved rapidly but are also integrated more and more in everyday life.
The term "Smart Home" literally means "intelligent home". This term seems to prevail more and more at the market and in public minds, although when looking for a definition you will also find synonyms like "smart living", "intelligent home", "intelligent living" or "eHome". Sometimes manufacturers use totally different terms which are unknown elsewhere due to marketing reasons.
"Smart Home" stands for systems and procedures in apartments and houses which not only increase comfort and quality of life but also improve security and economical and ecological energy efficiency. This can be achieved by networked devices, installations and automatic processes, which can be controlled via a panel at home or by remote control via smart phone or tablet.
Smart Home is closely connected to the fields of IoT (Internet of Things) and Smart Metering, i.e. measurement and intelligent control of energy consumption.
2.  How does "Smart Home" work?
In order to establish a functional smart home 5 components or groups of components are necessary, for example devices and appliances, the so-called actuators, terminals, sensors, networking technology either wired or wireless as well as a central control unit or "brain", the so-called gateway.
2.1. Devices, appliances or actuators 
This component comprises all devices which shall be integrated in the intelligent home automation like heating, ventilation systems, luminaires, shutters and blinds, media e.g. music center or TV, washing machines, refrigerators, stoves or door intercoms.
2.2. Terminals
For inserting control commands there are several possibilities such as classic switches, touch screens at home, tablets or smart phones. Meanwhile also the voice command is frequently used. The terminals are the interfaces between human being and smart home system, with which instructions are being transferred, but also devices and appliances can be checked for proper operation. Are the lights switched off in the cellar? Is the temperature o.k. in the living room? Are the shutters closed at the ground floor? All these things can be checked and, if necessary, can be corrected via the appropriate App.
2.3. Sensors
Sensors are necessary to record the current state of the devices and appliances and their operation statuses and to send messages to the gateway when certain values are reached. For example if a sensor detects that it begins to rain, other sensors will check whether doors and windows are closed. If they are not closed, the corresponding command will be given. Another sensor detects that the requested room temperature has been reached. Then the heating is turned down.
Motion sensors detect whether there are persons on the premises or in the house who do not belong there. Each function of the Smart Home System needs its specific sensors.
2.4. Networking
Networking is necessary for all devices and appliances to communicate with each other and with the gateway. The mostly used systems are wireless and wired Smart Home Systems, but some solutions also use power supply (Powerline). If you decide to install a wired solution you need a precise plan not only for current situations but also for future ones. Wireless solutions are most suitable for existing homes or old buildings, because the building structure remains untouched. The advantage is when living in a rented apartment that – if you move – you can take the Smart Home System with you and install it in the new home.
2.5. Gateway
The control and communication center of your Smart Home system receives all sensor data and compares them with the set points. If necessary, the gateway sends commands to the actuators. At the same time the gateway is the interface to the terminals. Depending on their features each actuator can be controlled directly. A connection of the system with the internet is also possible via the gateway.
3. Major use of Smart Home technologies
Nowadays there are a lot of Smart Home solutions for every part of the house and apartment and almost every day new solutions come up. The Schmidt family as an example is showing you the functions of Smart Home technologies.
The Schmidt family – Mr. and Mrs. Schmidt and their teenage children Anna and Marc – lives in a new house at the outskirts for about one year. The big house has enough space for all and additionally has a granny-flat in which Mrs. Schmidt's parents live. This flat is designed for wheelchair use.
Therefore they have a solar system on the roof, a powerful and efficient heating, internet connections in each room (independent of wifi) and several other useful features, which make everyday life easier. Right from the start Mr. Schmidt wants to have a Smart Home. Therefore most of the devices are networked and can be controlled via central panel at home or via remote Smart Phone App.
Mr. Schmidt is no miser but he is happy if he can save some money with clever measurements. Thus he informed himself about the advantages of a Smart Home system regarding temperature control, ventilation, energy management and smart metering. For example, with the installed device he can record the energy consumption of the whole household, identify power guzzlers and optimize them. Using this knowledge, devices like washing machine or tumbler are operated only at times when energy costs are low. He also has programmed heating, blinds and shutters in such a way that they are adjusted to each other and switch off and on alternatingly. All this has a positive effect on the Schmidt family's budget.
Mrs. Schmidt likes the nature and has also a sense of romance. She does the gardening and takes also care of the indoor plants. When the Schmidt family is planning to go for a weekend trip, what they do quite often, Mrs. Schmidt switches on the automatic watering systems for outdoors and indoors. With the corresponding App on her Smart phone she can check the amount of water in the garden and in the flower pots and, if necessary, she increases the amount of water when the soil is getting dry.
Her sense of romance especially appears when she is preparing an intimate dinner for her husband. Via the light management function of the Smart Home system she programed different illuminations which are suitable for a romantic dinner. Sometimes she also specifies the music program which starts on its own in the right loudness at a certain moment.
Regarding the Smart Home system Anna and Marc are only interested in the control of audiovisual media. They know these functions precisely. In a second they bring videos or TV shows on every desired display or change the music when they are walking from one room into another. Of course, they use their smart phones for this purpose which they always carry with them.
The grandparents are still quite eager and energetic. Nevertheless Mr. and Mrs. Schmidt have installed Smart Home technology in their flat for greater accessibility. Grandma especially is happy with the safety functions of doors, windows and blinds. Now she feels far more protected against burglars than in their old flat, although they lived upstairs. Once the grandparents should need help they can contact the appropriate persons via an emergency call system.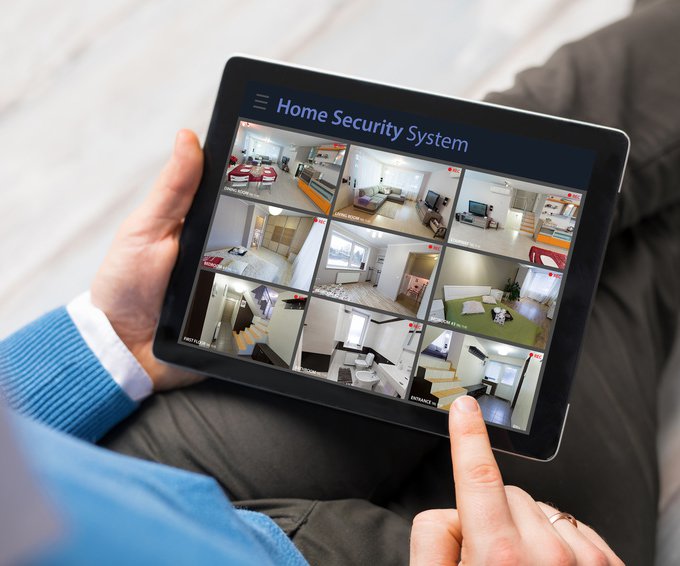 Now the first long vacation for the whole family – parents and children – is coming up. As they do not want to bother grandparents, neighbors or friends with the taking care of the house they have switched all Smart Home components to "absent mode", e.g. motion detectors and cameras, shutters and lights. They are pretending their presence automatically at certain times and start watering the flowers which is extremely important during summer time. On departure day the suitcases are packed and they can leave without any worries. Even when they forgot something – via the Smart Home App they cannot only check the current conditions at home but also change the adjustments. With this good feeling they leave for vacation totally relaxed.
4. Smart Home's advantages and disadvantages
The biggest disadvantage is that Smart Home systems like all networks or digital infrastructures cannot be protected 100 % against cyber attacks. Therefore safety and data protection measurements are very important. Often one does not consider that newly bought Smart Home devices are used in connection with existing routers and wifi-networks. If these existing devices are not protected they are an open door for cyber attacks, also on the Smart Home system.
When it comes to safety every single component of a system has to be considered precisely. Be aware of cheap products from hardware stores or discount shops because they often do not have modern safety features. It is especially dangerous if the communication between device and the appropriate App runs via a badly secured server abroad.
Except of the gateway most of the components of the home automation are hardly prone to manipulation. Cyber attacks – if any – occur via the control panel or other parts of the home network. However, this is nothing new, it is known for years with PCs, routers and smart phones, meaning this is the bitter truth. Thus appropriate protection measurements like fire wall, encrypted data transfer and precise determination of access authorization should be taken also for the intelligent home.
4.1. Check manufacturers
Before you decide to buy a Smart Home system check manufacturers on the market. Renowned companies are feeling responsible for safety issues and already deliver a suitable software with the system. Especially companies working in the field of consumer IT or consumer electronics have long-term experience with the mentioned problems and integrate solutions already in the development of their products. Standard measurements are encrypting methods like VPN connections, a two-factor-authentication or the encrypting of wireless signals as well as the providing of safety updates on a regular base.
Manufacturers for classic home automation have to be checked more carefully because they still concentrate mainly on technical performance and often do not care for safety features. Weaknesses are often discovered with tests by TÜV, VDE or by trade magazines or other media and are only solved step by step.
According to a study safety features and the protection of their privacy are the most important reasons for many consumers why they do not buy a Smart Home system, followed by the costs, fear of an automation, fear of a cyber attack and finally doubts about the technical maturity of devices.
4.2. What advantages does the Smart Home have?
According to the same study people interested in this technology in the first place want to save energy, followed by more comfort in everyday life and an improved protection against burglars. Some people only want to have state-of-the-art technology or consider the installation as an improvement of the value of their real estate.
5. What is important when buying a Smart Home system?
The first thing you have to think about before buying is whether you want to have a wireless or wired system. When planning a new home a wired system is easy to integrate and can be installed without any problems. But most of the people and also renowned manufacturers prefer wireless versions. These versions can be installed, extended or exchanged by themselves or by a local electrician. You do not need to open walls, so even rented flats can be easily equipped.
5.1. Compatibility
Another big subject is the compatibility of the components among each other when they are produced by different manufacturers. At the beginning many consumers do not decide upon the whole package but only upon a few components, e.g. safety technology, and install only cameras and motion detectors, door and window contacts.
After a while when consumers wish to complete and to extend their systems they realize that the same manufacturer does not offer the requested products, e.g. lighting. When they look for suitable products for lighting control with other manufacturers they realize that these products are not compatible to their existing systems. Due to this reason consumers should choose manufacturers with a comprehensive assortment of home automation products or take care for products which are compatible to products of other manufacturers. It is worthwhile to look for alliances of manufacturers.
5.2. Alliances of manufacturers
Many manufacturers build alliances with other companies in order to offer standard products and components which are compatible among each other like eNet SMART HOME. In such cases you can rest assured that the shutter control of manufacturer A is compatible to the heating control of manufacturer B and both can be controlled by the gateway of manufacturer C. Such an alliance makes sure that all devices can be controlled by one App and are protected by a common safety concept.
Furthermore the alliances guarantee that for installation, extension requirements or errors and repairs they have one service partner who is familiar with all devices. Thus your smart home system is well prepared for the future. The same applies to innovations which today are not associated to home automation at all or only rudimental.
6. How much are the investment costs for a Smart Home solution?
Of course, the costs of a Smart Home system are an essential subject for everybody interested in this technology. But no exact information can be given about prices because the individual demands are quite different and the quality of the products is varying depending on the manufacturer. State-of-the-art technology – as always – is much more expensive than bulk goods from a discounter.
Basically, wired Smart Home systems are always more expensive than wireless systems due to higher material and labor costs. In this case you have to pay a minimum amount of approx. 5,000 EUR. There are also cheaper basic models with only one or two components for 200 or 300 EUR. No upper limits.
Besides of the decision between wired or wireless system there are some other important factors for the calculation, e.g. type of system, installation costs, number of connected components, use of Apps and Cloud services, power consumption or batteries within wireless components. The bigger the living space and the higher the number of features the more expensive a system will be.
Provided that you choose a future-proof system which components are compatible to other products you can purchase your Smart Home system piece by piece and need not spend the costs in one amount.
7. What the future will bring
The trend to Smart Homes will continue, this is a fact. At the big consumer trade fairs like Consumer Electronic Show (CES) in Las Vegas, CeBIT or Mobile World Congress (MWC) new products and new developments are shown each year which expand the Smart Home portfolio and – partly – merge with the Internet of Things.
There are also trends beyond the purely technical aspects of a Smart Home system which enable possible services in connection with networking, e.g. a better and faster supply of medical care for elderly people – regarding the demographic change this is surely an important and very useful aspect of home automation.
The already existing effect of an efficient energy management will further increase. It is not only about requirements of individual households but also about energy storage and distribution on a large-scale base, e.g. via connection of individual households with the power supply.
The future prospects of the Smart Home are very bright. According to forecasts the turnover will triple to more than 4 billion Euros up to 2022 in Germany. Instead of the currently 2 million there will be 8 million households which are more or less equipped with Smart Home systems.
Find the right Specialist
Find your specialist close to you
Specialist close to you
0
Specialists close to you have been found
To find your specialist close to you, please enter your zip code in the field above in the search form.
To use this service, please activate Google Maps in the
Settings
.
Unfortunateley, a specialist couldn't be found.
Then feel free to contact us and we support you to find the right contact person for your issue.
Contact TECWORLD directly